I was born in San Francisco, but crossed the Atlantic at the age of 20 looking for art and adventure. Captivated by the visual variety and life style of Europe, I've been happily 'detained' in the UK ever since. After moving to York I worked in bookshops and cafes, before training in Secondary Art Education. It was a happy time teaching art part-time while painting in my studio above Spelmans Bookshop in the city and taking part in exhibitions. However, British Illustration was going through a very exciting period, inspiring me to retrain in Graphic Art. I worked freelance for a variety of clients, including York Castle Museum, OUP, The Independent on Sunday, BBC Good Food Magazine, The Cricketer, Medici Cards, The Observer and The Guardian. The wide ranging subject matter and the 'buzz' of the speedy deadlines were exciting for me.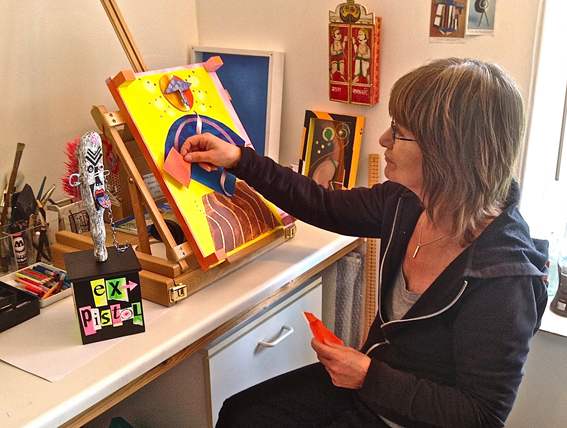 Recently I've returned to more personal projects, taking time to experiment with materials and imagery. I've participated in four York Open Studios events, and exhibited at the Pyramid Gallery, Blossom Street Gallery, Zillah Bell Gallery, and the Pocklington Arts Centre. It was exciting to take part in The Fetes du Graphisme in Paris, and closer to home, the York Design Festival in 2020. Recent exhibitions feature work for a charity project "The Last Gardener of Aleppo", inspired by a Channel 4 news story from 2016. Proceeds of sales have been donated to The Lemon Tree Trust and UNHCR. This is an on-going project, with new works being added yearly.
In addition I've worked with York's Good Organisation designing T- shirts on the theme of homelessness, and with the Refugee Action York for teaching materials. Helping charities through my work has become increasingly important to me.
Art inspiration comes from people watching, Ethnic Art, music, travels, news stories, children's art, and literature.
When not making artwork, I enjoy the cinema, reading, watching cricket and tennis, swimming, traveling, and playing the ukulele quite badly.