The exhibition of The Last Gardener of Aleppo at the Angel on the Green closed early due to Covid19. I'd like to thank everyone there for their generous help. I'm now posting the exhibition on my website indefinitely. These pieces can be found in my WORK portfolio in THE LAST GARDENER OF ALEPPO section.
The exhibition is titled "The Last Gardener of Aleppo", inspired by a Channel 4 News story from 2016 (link to the movie). Abu Waad ran a garden centre, which was an oasis of calm and beauty among the death and destruction throughout the city of Aleppo. I've illustrated the words of Abu Waad, as he describes his love of plants and flowers. 50% of any proceeds will be divided between UNHCR and The Lemon Tree Trust. The exhibition consists of collages, giclee prints, and greetings cards.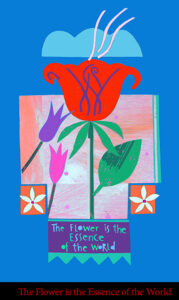 There are cards dedicated to this theme within my work portfolio in the CARDS section, where there are several different designs inspired by THE LAST GARDENER OF ALEPPO.
Please contact me with any queries on creativecombi@gmail.com, or on my FaceBook page "Linda Combi Illustration".